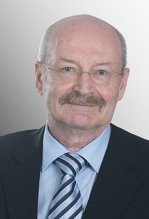 Prof. Klaus Thoma
Director of EMI
Lifetime Founding Member of the International Ballistics Society
International Ballistics Society Fellow

The Fraunhofer Institute for High-Speed Dynamics, known under the name Ernst-Mach-Institut (EMI) is one of the 60 institutes of the German Fraunhofer society. Fraunhofer is a non profit organization which specialises in applied research and has close links to German government authorities. It is the biggest research organization in its field in Germany and one of the essential European research organizations. EMI adopts interdisciplinary and comprehensive material strategies to investigate impact, shock and penetration phenomena by experiment and simulation concerning:
•Modeling of material behavior under dynamic loading (strain-rate influence, failure behavior) applied to the whole spectrum of materials ranging from ceramics via metals to polymers and composites
•The development of mathematical models for dynamic material behavior, deployed in the fields of continuum mechanics, mesomechanics, mircomechanics
•The development of new measuring methods for dynamic material properties, guided by the necessity to deliver data for numerical modeling
•The development and application of new sensors and measuring techniques in high-speed physics (high pressures, high strain rates, short time spans)
•The development of numerical computing methods in structural dynamics, fluid mechanics and the coupling of fluid-structure interaction
The solutions acquired at EMI by experimental, computer-based and analytical methods aim at improving the security and reliability of components and structures under dynamic loads. Typical applications are armour and antiarmour, protection against space debris, hypervelocity impacts, light gas guns, light weight armour, impact and crash, sensors and electronics for harsh environments, development of new materials using methods of computational physics, security research, car crash analysis.
Positioned at the interface between basic research and industrial application, EMI puts great emphasis on integrated experimental-numerical research. As well nationally as internationally, EMI ranks among the best addresses concerning this claim.